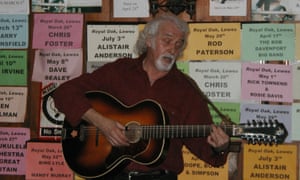 Bill Caddick, who has died aged 74, was already well known on the British folk scene as a master craftsman of songwriting when he was recruited to join the Albion Band at the National Theatre in performances of Lark Rise (1978), Keith Dewhurst's adaptation of Flora Thompson's memoir of late-19th century rural England.

The innovative production, directed by Bill Bryden, was performed as a promenade: no seats but with the audience, actors and musicians intermingled. The band, led by Ashley Hutchings and also featuring John Tams, added traditional folk songs to the production, played in a folk-rock style. Caddick was in his element, playing guitar and percussion as well as providing vocals, and he relished the theatrical experience and the closeness of the audience. Dewhurst's Candleford followed, and Caddick performed on the Albion Band's 1980 album Lark Rise to Candleford.

Caddick continued to perform and sometimes write songs for National Theatre shows, including Don Quixote (1982), A Country Calendar (1979) and, most notably, the trilogy of plays, The Passion, The Nativity and Doomsday, which made up The Mysteries, Bryden's landmark promenade production of medieval mystery plays, which transferred to the Lyceum theatre in 1985.
Read full article: Bill Caddick obituary | Music | The Guardian