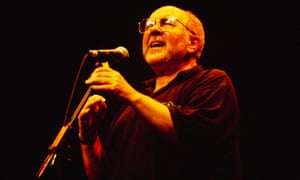 Singer whose political brand of folk music brought him fame in Europe and America

Although Roy Bailey, who has died aged 83, played a significant role in the development of sociology in Britain, he was most widely known as a folk singer. He started in the folk clubs around Southampton and Portsmouth in the early 60s, with a repertoire of the US-based folk and skiffle popular at the time, but quickly found his voice in folk music as a popular expression of political and social dissent. Influenced by singers as diverse as Ewan MacColl and Bob Dylan, he became convinced that folk music could become a powerful vehicle for contemporary social criticism.

As folk gained in popularity, Roy became a star attraction. His rich baritone voice, his charm and skill as a performer, together with his evocation of traditional folk themes, gave him an appeal to a much wider audience than either a purely cultural interest in folk or an unadorned political radicalism would have.

Sign up for the Sleeve Notes email: music news, bold reviews and unexpected In the early years, he often sang with his wife, Val (nee Turbard), whom he met in 1960 and married in 1963, but he also formed a number of other working partnerships, including one that took a historical perspective, with the politician Tony Benn. In 1964, he teamed up with Leon Rosselson, a prolific writer of songs of incisive social comment. They collaborated for many years. He later formed the Band of Hope, a group of traditional English folk musicians that also included Martin Carthy, John Kirkpatrick, Dave Swarbrick and Steafan Hannigan, and together they recorded the CD Rhythm and Reds (1994).

By the 70s, his reputation had spread to mainland Europe, and he sang in Switzerland, Belgium and the Netherlands. During the 80s, he became more widely known in North America, particularly on the west coast of the US and as a regularly featured performer at the Vancouver folk festival, where he met and performed with both Pete Seeger and Billy Bragg. He also performed in Australia in folk festivals and clubs from Sydney to Perth.

Rather than write his own songs, Roy took up material provided by the many performers and writers he met on his travels, each drawing on the traditions of protest of their own country. With songs from Si Kahn, Robb Johnson, Ray Hearne, Geoff Pearson and Rosselson among others, he wove the threads of his own distinctive themes and causes: denunciation of war, political repression, injustice and the impoverishment of working people and minorities.
Read full article: Roy Bailey obituary | Music | The Guardian