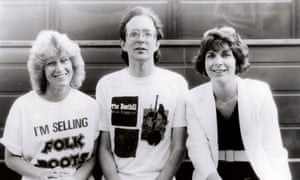 'What's been fashionable never bothered us' … Beverly Hill, Ian A Anderson and Caroline Walker of fRoots magazine, at Bracknell folk festival, 1985. Photograph: Dave Peabody
When much-loved magazines fold, tributes quickly gush about how they captured new trends or scenes. But some magazines, like fRoots, have always sat outside time. A champion of the local and the international underground for over 40 years, it announced its closure last week after advanced discussions with a new publishing company fell through; an official statement online added that "decreased advertising support in the digital age, along with current political and economic uncertainties" hadn't helped.

Take a look at its recent 40th-anniversary edition: it's like a huge fanzine created by a groovy uncle, occasionally gazing at the mainstream but much happier exploring the margins. Its going out guide is staggeringly broad, revealing a fertile UK festival and gig scene rarely covered by the national press. Features include a dig into Kate Bush's traditional roots, reports on the qawwali ensembles of Pakistan and a free desert festival in Morocco, plus Scottish folk musician Alasdair Roberts celebrating new artist Burd Ellen's songs about women. The huge reviews section takes in London's Cafe Oto, Korean experimentalist Park Jiha and Topic Records' 80th-anniversary CD. Trendy bells and whistles are few, but it's a rich treasure trove.Folk Roots magazine, with folk musician Shirley Collins on the cover.

fRoots began in 1979, at the height of post-punk and disco. Back then, it was The Southern Rag, a regional quarterly for central and southern England celebrating folk and roots music. It took off. In 1984 it was renamed Folk Roots, going monthly and national on the newsstands with a booming subscription base.
Read full article: 'A big tree has fallen': the sad demise of fRoots, bible of British folk | Music | The Guardian