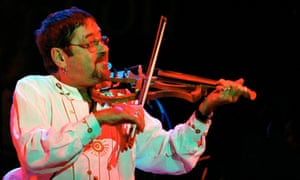 Folk musician Dave Swarbrick has died at 75, his family have announced. Best known for his work with the hugely influential folk group Fairport Convention, Swarbrick was a virtuosic violin player and one of the most highly regarded musicians of the 1960s folk revival. He also wrote, arranged and sang, and performed on the viola, mandolin and mandola, and guitar.
Swarbrick — known as "Swarb" — began his musical career as a guitarist in a ceilidh band in the late 1950s, before joining the Birmingham-based Ian Campbell Folk Group as a fiddle player. He first worked with Fairport Convention in 1969 as a session musician, subsequently becoming a member of the group, and was the first fiddler on the UK folk scene to electrify the violin. His writing and playing was a key ingredient in the group's Liege & Lief album, a record that rewrote the folk landscape with its electrified versions of traditional English folksongs.
Source: Fairport Convention's Dave Swarbrick dies at 75 | Music | The Guardian
We'll have a tribute on Detour this week, Sunday June 5, 5-7 PM — 89.7 FM and wtmd.org. Music from Swarb's collaborations with Martin Carthy and Simon Nicol, as part of the band Whippersnapper, solo work, and with Fairport Convention.